Key Facts
Up to 200 people unseated, up to 120 seated.
You can choose any caterer you like, and deal direct with them. The museum has limited facilities for preparation of food so they must be able to do most of the preparation of the meal in their own kitchens. We don't take commission from caterers, so you don't have to pay more.
Complete set of banqueting furniture available (extra charge). Some tables and chairs are provided free.
Sound system available for hire for disco music (when discos are possible)
Latest finishing time is 2300
Free street parking is available after 1830
Hire of the museum starts from 1630 (except Mondays) when we close to the public
Our conference room can be booked for storage and preparations before and after the function.
Excellent public transport is available including at night.
Daytime parties with music can be held on Mondays. The loud music ends by 1830.
Both floors are accessible for wheelchair users, via lifts.
Wine glasses are available for hire from us if required.
Free use of coat rails, kitchen. No corkage charges, and no charge for reasonable refuse disposal.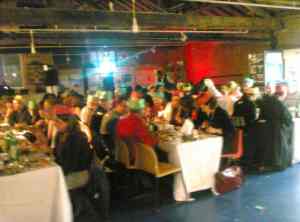 You can use our two floors for a reception on arrival followed by a meal in the first floor gallery. We can host simple receptions, informal buffet events, and dinners. Our venue hire operations began with a Christmas party back in 1994 since when the museum and the facilities offered for venue hire have developed a great deal. Numerous successful Christmas parties have been held under the Victorian roof over the years.
Availability of Dates
Christmas 2018
We are available for daytime parties with music and dancing if desired on Mondays. Loud music must finish at 1830 on Mondays.
We are available for silent disco parties on any available evening.
We are available for a drinks or dinner party without loud music on any available date. (background music is acceptable)
See our availability page for dates that are available for parties with music in the evening. It is best to book early.
Daytime Parties
On Mondays we can host daytime parties. Some companies and organisations prefer a daytime celebration because this enables staff and guests to travel home easily even if they live some way from London, without the expense of hotel accommodation. The event can begin with coffee or an aperitif before lunch and you can have a traditional hot lunch or something more informal as you wish. After lunch there can be a disco or other music and dancing. We can draw the blinds and add decorative lighting to give you a party atmosphere. Alternatively your lunch may go on into the afternoon and simply end with tea and coffee before departure. With such excellent transport links, getting home will be easy, and there will be ample time to relax at home before work the next day!
Special Package Deal - Monday Daytime Package 2023
Available on Mondays December 2023 except 25th . £950 plus VAT To include the following:
Exclusive venue hire 1000 to 1800
Furniture hire for 100 guests seated at round tables
Coat rails hangars and ancillary furniture
Table covers for round tables and bar/buffet
100 Christmas crackers
Hire of 100 wine glasses (or soft drink glasses, or flutes)
Labour to set up furniture and lay cloths, glasses, crackers
Hire of disco sound system (bring your own source of music)
Decorative up-lights
Food and drink are not included, but at this price you'll have more to spend on your choice of caterer and any supplier of drinks that you choose, with no commission or corkage to pay. Not included in the deal: wireless microphone, other audio-visual equipment, storage before or after the event, cutlery, crockery or catering equipment.
Other useful pages
An affordable Choice
When company budgets are tight the museum offers a venue of high quality at reasonable prices. You can push the boat out without pushing the budget out.