Introducing the festival
Since 1986, the first Sunday in September has been the date of the Angel Canal Festival every year. But not in 2020. Due to the impact of coronavirus there is no 2020 festival. This exhibition aims to provide a flavour of the festival since the turn of the century. It isn't a full history, more an esoteric collection of the most pleasing pictures available.
The exhibition has been put together by London Canal Museum and we would like to thank the contributors
Festival on Water
The festival takes place around City Road Lock, Islington, and the north of the City Road Basin, and extends to some surrounding streets and of course the towpath. We start this exhibition with some pictures of the festival on the water.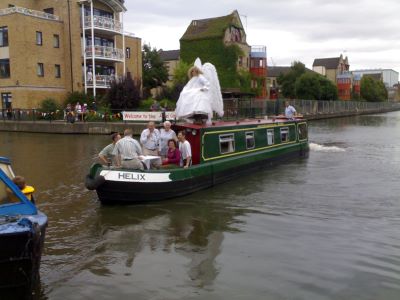 Next: Go to Music and Dancing page